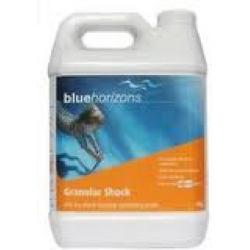 £48.00
Availability:

In Stock

Model:

5kg Shock

Average Rating:
5 KG OF TOP GRADE SWIMMING POOL AND SPA SHOCK TREATMENT

Blue Horizons

Granular Shock Chlorine is a highly concentrated chlorine used to shock your swimming pool water on a regular basis, usually this should be done every 2-3 weeks or more frequently during hot weather, or if your pool water has turned green. Granular Shock Chlorine is very effective at restoring sparkling water from algae infestation. Granular Shock Chlorine can be added through the skimmer. Also use this product if the pool has been neglected or algae growth has appeared on the floors and walls of the pool.
Write Review
Note: HTML is not translated!

Continue