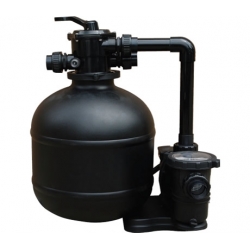 £300.00 £240.00
Availability:

In Stock

Model:

iflow

Average Rating:

Not Rated
iFlo SAND FILTER AND PUMP SET
PRODUCT INFORMATION
THE LUXURY OF A TOP OF THE RANGE TOP PERFORMING SAND FILTER AND PUMP SYSTEM FOR POOLS AND PONDS
20" 7 WAY MULTI PORT VALVE SAND FILTER
WHISPER QUIET 0.75 HORSE POWER SELF PRIMING PUMP
SUITABLE FOR ABOVE AND IN-GROUND INSTALLATIONS
COMPACT SYSTEM ALL STANDS TOGETHER ON A BASE
SUITABLE FOR EITHER HARD OR FLEXIBLE PIPE SUPPLIED WITH CONNECTIONS BETWEEN SAND FILTER AND PUMP
ALL FITTINGS INCLUDED
SAND REQUIRED 50KGS NOT SUPPLIED
What does it do?
The purpose of a swimming pool filter is to remove suspended solids from the water. This function coupled with the correct chemical treatment of the water should give you a sparkling clear and safe pool environment in which to swim. It is however important that the pool owner understands fully, that even the most efficient filter will not achieve ideal pool water conditions if the chemical balance of the water is incorrect.
Basically, the pump draws water from the swimming pool and passes it via a special mulitport valve, into the top of the filter tank, from where it passes downwards through a bed of special media, which traps the dirt and solids. The filtered water is then returned to the pool via the mulitport valve. It is after this point that if a heating system is incorporated it will be connected into the return pipeline to the pool.
Write Review
Note: HTML is not translated!

Continue
There are no additional images for this product.