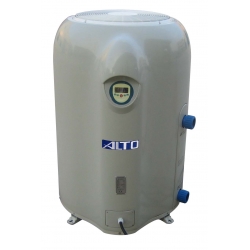 £1,500.00
Availability:

Out Of Stock

Model:

V-Series12

Average Rating:
DELUXE V-SERIES ALTO HEAT PUMP

Alto v series heat pumps are one of the most popular swimming pool heat pumps sold today, the price is kept low and the standards set high!
the alto 12kw heat pump is suitable for pools 50-60m3
Suitable for Above and In ground pools, Titanium heat exchanger suitable for salt water sanitized pools, Operates down to 5°C, Famous brand compressor - energy efficient and quiet, Triple thermostats offer precise temperature control, Self-diagnosis control panel monitors heat pump operations, Isolated internal electrical compartment, Reverse cycle defrost operation, 1 year warranty
National support and helpline available
ALTO Air Source Pool Heat Pump delivers up to five times more energy in heating than the electricity consumption. Nearly 80% heating energy is from the solar energy in the air and only 20% is from the electricity. It only consumes 1/2 the cost of Natural Gas, 1/3 the cost of Oil and Propane, and 1/5 the cost of Electric Resistance.

1. Air Source Pool Heat Pump feature: Streamlined design, Elegant plastic cabinet, Antirust resisitance and durable 

2. Efficient energy-saving: High efficient compressor, Extra large evaporator, Reliable Emersion expansion valve, Contribute the refrigeration system with COP 4.7

3. Pure Titanium heat exchanger ensures complete corrosion resistance, Compatible with water treatment: Chlorinate, ozone, iodine, bromine and salt water 

4. Automatic intelligent control: Simple and friendly control interface, VLED color dynamic display screens, Set your desired pool water temperature and the heat pump will do the Rest, Both panel control and line control (optional) are available, Self-diagnosis function, displays the fault code automatically

5. Multi protection: Water flow switch, High/low pressure protection, Overload protection, Compressor protection 

6. Operation mode: Fully automatic operation mode, Eco-mode 

7. Auto-defrosting function, It also combines both water heating and water cooling functions together.

9. Scope of application Running environmental temp range: -5degree~35degree
SPECIFICATION
AS-H40Y
REFRIGERANT
R407C
Rated capacity (heating)
11.7kw
Rated capacity (cooling)
10.5kw
Power input (heating)
2500w
Power input (cooling)
2480w
C.O.P
4.68
Amps heating
11.8 AMPS
Amps cooling
11.4
Circuit breaker required
30 amps
Compressor type
Rotary
Heat exchanger
Titanium
Water flow
1.0-3.0 m3/h
Pool volume
50-80m3
Water-proof grade
IPX4
weight
65
Dimensions (lxwxh)
52X47X75


Write Review
Note: HTML is not translated!

Continue