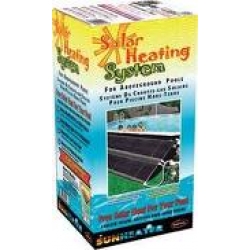 £149.99
Availability:

Out Of Stock

Model:

Solar Panel

Average Rating:
Swimming pool solar panel

Using the pool pump, water is automatically pumped through the solar collectors. The water is then heated as it moves through the collectors. The heated water is returned back to the pool through the return fitting.

Kit consists of:
1 x 2ft x 20ft (0.61m x 6.1m) Solar Panel
2 x End Stops
1 x Connector Hose
2 x Jubilee Clips
2 x 1.5" Threaded Connectors
1 x PTFE Tape
1 x Instruction Leaflet

Sunheater? solar pool heating system will raise the temperature of your pool water by up to 10° F (6° C). or more. It is lightweight, durable and easy to install. Water simply flows through the SunHeater's many tubes via your existing pool pump where it is heated by the sun and returned to your pool (see accompanying illustration). The system can be installed on the roof of your house, shed or cabana, mounted to a rack (optional mounting kit SK43 available), or simply placed on the ground. Get the system used by hundreds of thousands of Americans ? the SunHeater? solar pool heating system ? and save money on fuel and electricity bills, extend your swimming season by weeks, and get more enjoyment from your pool than ever before. Systems are available to suit all sizes of aboveground and inground pools
Write Review
Note: HTML is not translated!

Continue